The maintenance and cleaning of Ott System bedding are easy and non-binding. They were designed from the ground up with this simple idea that everything is removable and accessible.
Solid wood bed frames
The bed frames are oiled with hard oils, the surfaces are smooth and there are no inaccessible corners. The passage of a simple dust cloth does the maintenance.
The height of the bed legs allows easy access under the bed with a vacuum cleaner. The absence of peripheral upholstery guarantees that there will be no rear base for bedbugs and other undesirable substances.
Tonic Softness slat system
The Tonic Softness slat system is flexible and easy to raise for passing a cloth or the vacuum cleaner. The slat system can be dismantled and reassembled without tools thanks to the four YKK brand zippers. This brand is the reference in terms of quality and guarantee the proper functioning of the zippers for the lifetime of the bed. They are also certified Oeko-Tex, without heavy metals or other dangerous substances.
Everything is controllable, accessible, easy to put back in place, in one word: reassuring.
Latex-Wool mattress
As the devil is hiding in the details, we went into a great deal of details to design our new type of mattress.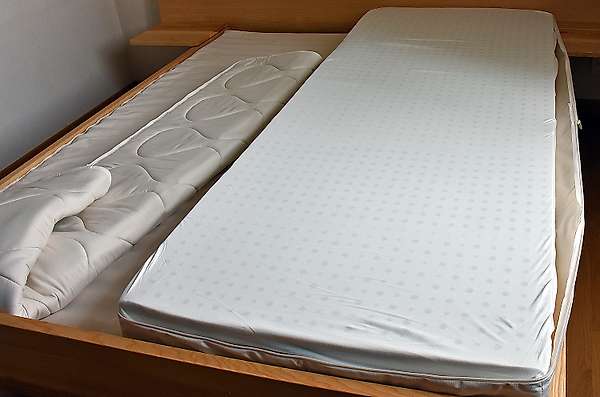 A first jersey cover (100% organic cotton GOTS certified) gently envelops the 100% natural latex mattress core. A YKK zipper allows opening. It should not normally be necessary to remove this cover but this is possible to change the latex or to wash the cover.
A second cover in thick canvas (100% organic cotton GOTS certified) receives the latex core in its first cover. The top of the mattress is a pure new wool mattress topper. It acts as a true breathable filter and temperature and humidity regulator. The mattress topper is held to the rest of the mattress cover by a peripheral zipper. It can be taken off completely like a hat. The fabric of the mattress topper is a soft and silky twill. The padding can also be made of 100% organic cotton instead of wool.
For ease of maintenance, it is desirable to protect the mattress topper with an organic cotton mattress protector. The latter can be changed and washed regularly. For the maintenance of the mattress topper, the easiest way is to remove it from the mattress using the zipper and put it in the air or in the sun. There is nothing better to regenerate it.
In case of stain, it is possible to wash it with water and soap locally. If it was really necessary to wash it completely, it is possible to wash it by hand or in a pressing preferably ecological.
Head picture painting : Shahram Nabati, 2005.