The Soft Motion slat system is the cornerstone of Ott System's ergonomics. Years of experience show that this slat system provides all the adaptability one need during sleep.
Personalized slat system
Given that the slat system supports the mattress and the sleeper, its performance is crucial to a good bed. We do not all have the same silhouette: there are young and old, of different weights, sizes and varying widths. The mattress only cannot fully meet the comfort and adaptability one is right to expect. Tonic Softness slat system is made to accommodate each sleeper, according to his/her morphology.
In order to adapt the slat system, the person is invited to lie directly on the slats to discover the right support of softness and tonicity. It is a unique and reassuring experience.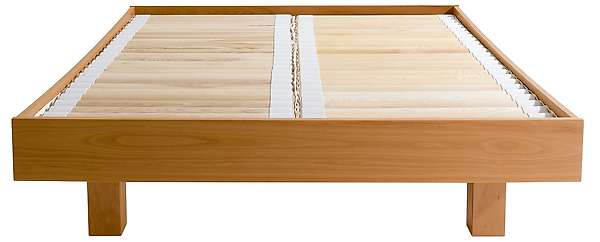 A well designed slat system
Slats are oblong only made of full ash wood which has a robust structure combined with great flexibility. These slats are made to last a lifetime.
They are placed in a large elastic sown on a solid fabric made of GOTS certified cotton canvas. They are supported by 2 beams made of 100% natural latex. Our slat system if made against any programmed obsolescence. All components can be opened, cleaned and changed if necessary.
At any moment during the night, the mattress will follow the line printed by the sleeper's body on the slat system. It is this coordinated motion between the slat system and the mattress that makes Ott System so exceptional.
A slat system for each sleeper
In a bed for 2 persons, each person will have his/her own Tonic Softness slat system that is adapted for him/her. Each sleeper will be able to sleep in peace and sleep without waking up his/her loved one. The massaging and toning effect of the slat system will be in harmony with the softness of the mattress.
Description in pictures