The bed is the foundation of your sleep. It must provide a healthy (metal free, natural oil finish) and solid base on which the whole system can rely upon.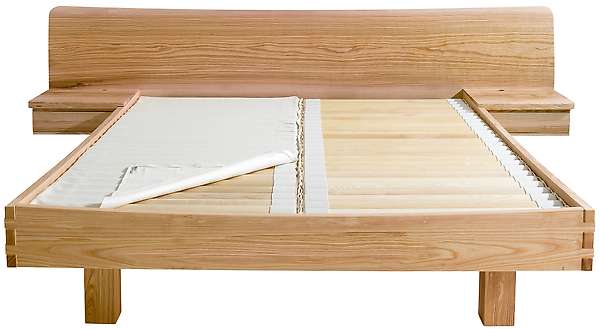 No metal : just plain massive wood
First and foremost, our beds are made without metal. No metallic frames, no nails, no screws just plain massive wood. Metal is conductor and acts like antenna for all the electrosmog that surrounds us. It is not something one wants to sleep with night after night.
The assembly is made out of traditional proven methods such as dovetail joints.
That traditional assembly has the the additional advantage to be easy to disassemble and reassemble. Our beds are therefore easy to move. They will resist the test of time even through numerous moves.
No varnish : just plain natural oil
Wood takes all its magnificence when properly finished. Finition ought to be natural, let wood breath and must not pollute your bedroom with any kind of volatile organic compound (VOC).
Natural oil finish, based on linseed oil is environmentally friendly and emits no chemical emissions. It gives an overall organic look and rich patina appearance. It has fantastic effects on solid wood.
Bed feet away from the edge
We propose the bed feet away from the edge of the bed. This is a simple feature that will save you numerous time hitting the bed feet with your feet.
Sizes
Length: 190 cm, 200 cm, 210 cm, 220 cm.
Width: 80 cm, 90 cm, 100 cm, 120 cm, 140 cm, 160 cm, 180 cm, 200 cm…
Height: ideally, one should be able to place his or her feet firmly on the floor while sitting on the edge of the bed. The height of a chair is recommended.
Inclined bed
The inclined bed therapy has been proposed by Andrew Flechter and has echoed with many other specialists of sleep ergonomics. If you are inclined to try the inclined bed, we propose a special kit that will be made to the specific inclination you wish to have.
The inclination is always for the full bed, the head being higher that the feet. There is a whole literature on the benefits of such a way of sleeping. This goes way beyond what we can explain here.