The one who saw a grandfather, an uncle, a friend working solid wood, the one who smelled the smell of wood, touched a smooth planed board, caressed with the eye its complex, yet delicate structure, knows that solid wood is all about emotions. Through wood we understand that we are an integral part of nature.
The respect of wood
From solid wood we make beds, bedsteads, slats, bedside tables and much more. Wood is used without metal assembly and without varnish. We celebrate the beauty of it by using it the best we can.
Trees we use are decades old and our beds can last for centuries. We use the maximum of each log to make planks. We use smaller planks and smaller pieces to make slats. Everything is done to avoid any waste.
Wood certification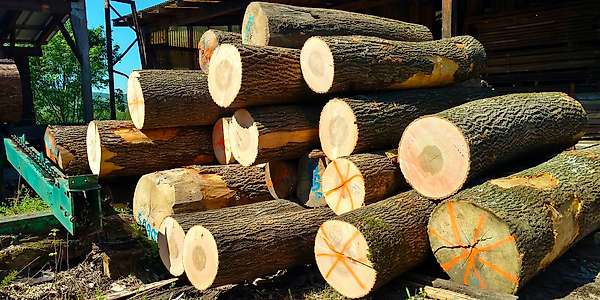 We only use PEFC certified wood (Program for the Endorsement of Forest Certification). This certificate attests the respect of the environmental, societal and economic functions of the forest. It is based on the certification of the forest along with the certification of the companies that process wood to ensure a complete traceability from the forest to the finished product.
Wood types
We are very careful to use well dried wood. Moisture content should not exceed 8 to 10% in order to prevent formation of cracks or variation of dimensions in an insulated and heated house.
There exists many types of woods and each one has charms that will please different people. The wood we most commonly use for the bed frame is beech wood. It is abundant and give superb results once oiled. We also use ash tree a lot. It is a noble tree that makes beautiful beds. Ash tree is also systematically used to make the slats of the slat system. It has the remarkable property to bend without breaking and was used before to make propellers.
The choice of the wood specie is first and foremost a personal choice that will also be guided by your existing interior.
Beds manufacturing
No metal assembly is used in our beds. As we said, this is the way to respect wood as a beautiful material and this key to protect sleepers from diseases caused by electromagnetic pollution.
The assembly is done using a system of straight or curved dovetails. This methods will allow you to disassemble and reassemble your bed very easily.
After the final sanding, hard oil finish (a blend of linseed oil and pine resin) is applied to protect and beautify the wood. We make, at request, bedhead or bedside tables.
Galerie